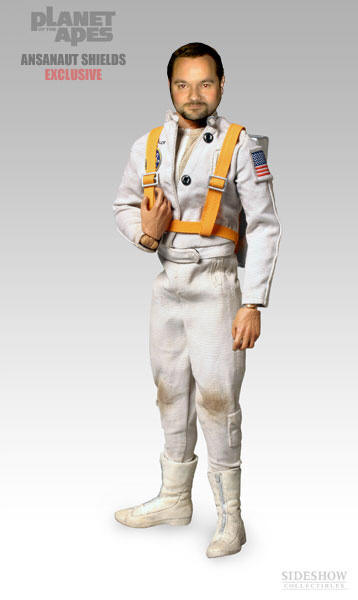 Post-crash Forbidden Zone
ANSANAUT SHIELDS 12" fully poseable action figure.
A bit of a parody from Mark Longmire ...
I am looking for several references, images, etc. and I need your help! If you have any of the following, please send them to me and I will give you proper credit on this site. Email your submissions or information to ANSANAUT.
Fan Art of the ICARUS- Please send me any of *your* impressions of what this ship might have looked like. I want to start a "ICARUS" specific fan-art gallery for images relating to the crew and this ship. Good examples of incredible fan art can be found in the ANSA SPACEFLIGHT GALLERY page.
"ICARUS" Art- if you have a POTA coloring book, storybook, comic book, graphic novel, or anything else that depicts the "ICARUS" from the movies, please scan it in and send it to me with a reference to the original. Photocopies, both black and white and color reproductions are also accepted.

Please inquire via email for my snail mail address when sending contributions the old fashioned / low tech way...
Model and Reviews- If you have built one of the models featured on the model page, or your own version of the "Icarus" (scratchbuild, professional modeler contract, etc.) let me know! If you have a write-up on how easy or hard it was to model, as well as pictures, etc. I will put those up as well. Genre specific spacecraft are also welcome, but they must be "ANSA" oriented. Original and scratch-built pieces, as well as dioramas are welcome. For a quick submission guideline, any of the ICARUS models or related ships would be acceptable, the APEONAUT model figures would be acceptable, but the various POTA figures such as Cornelius, Zira, Zaius, or Urko are not what I am looking for as they have everything to do with the movie, but not with the technology represented in the movie, per se. If it is ANSA or NASA oriented, it's in. Otherwise, if it's just regular POTA, it's out.